Smartphones have become an integral part of our contemporary life. Mobile Apps are its most important component.
Mobile Apps are playing an increasingly important role both for businesses and users. It has transformed the way we communicate with one another.
Mobile Apps dominate our time and space
The popularity of social media platforms like Facebook, Twitter, Instagram, and Pinterest has broken social boundaries and connected people like never before.
On the other hand, messaging apps like WhatsApp, Telegram, and WeChat have made it super easy to share information and stay in touch.
Mobile Apps have also added a new dimension to our work life. With remote work getting prevalent among organizations, a number of productivity Apps have become a part of our work life. Apps like Asana, Teams, and Slack have made it convenient to communicate, connect and collaborate with colleagues and manage projects.
Then there is a slew of entertainment Apps that have changed the way we consume entertainment. The majority have replaced TV with Apps like Netflix, Amazon Prime, Gaming Apps, Sports Apps, and many more. These are a rage with youngsters.
Education Apps like Coursera, Khan Academy, and Udemy have revolutionized our learning behavior. We learn on the go. The approach to learning has become dynamic with the arrival of technology-driven education Apps.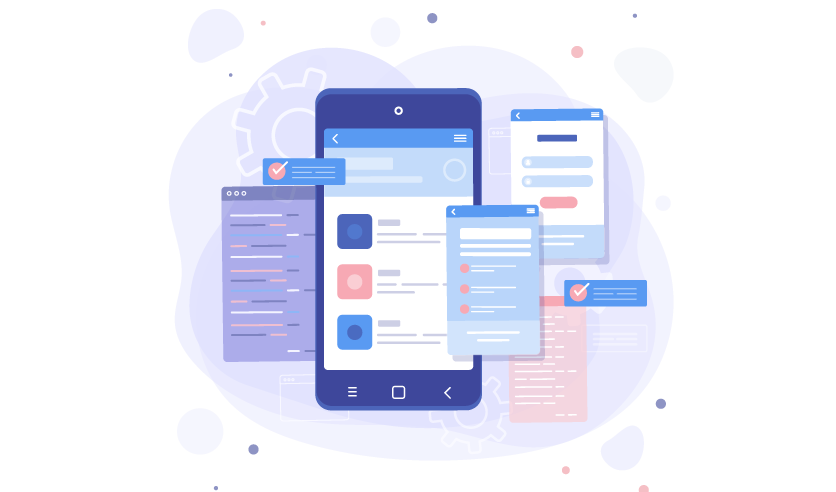 How do Mobile Apps help the business? How can enterprises leverage it?
First of all, the opportunity for business enterprises lies in acknowledging the fact that people are spending a substantial time on mobile Apps. There is undeniable room for an organization to occupy that space provided it is able to market and reach the right audience.
Enterprises must develop a pertinent mobile app strategy that aligns with their business objectives. They should partner with a mobile app development company like Webomindapps Toronto to create custom applications.
The next natural step for the organization should be smartly investing in App marketing to ensure it is discovered and downloaded by their target audience.
Why should businesses invest in Mobile apps?
There are many advantages of Mobile Apps if looked at from a business perspective. A few important benefits are mentioned below.
(A) Increased Sales and Revenue
In-app purchases, advertising, and subscriptions are a lucrative strategy for an enterprise to generate revenue.
If the product or service packaging is designed creatively, it becomes irresistible for customers to leave the app without purchasing.
(B) Improved customer experience and engagement
Businesses engage in direct communication with customers. It helps them to build engagement through push notifications, product promotions, personalized messages, and offers.
This helps in building customer loyalty. The customers have been kept interested and engaged. The personalized nature of messages and communication enhance their overall experience.
(C) Gaining rich customer data
Organizations gather valuable customer data through Apps like customer reviews. They are able to decode their preferences, likes, and dislikes. They are able to gather deep customer behavior.
All these data play a significant role in finetuning marketing strategy, personalizing the customer experience, and elevating business operations.
This helps in building customer loyalty. Customers become more interested since their level of engagement has been maintained.
Improving Brand visibility
Businesses have a direct opportunity to increase their brand visibility and awareness through mobile apps.
This is possible if they position their brand in a way that customers are able to connect and perceive value from their brand.
Advantages and Disadvantages of Mobile Apps
Mobile Apps come with certain advantages and disadvantages.
Although the advantages outweigh the disadvantages, it has certain limitations.
There are currently 6.9 billion smartphone users in the world. Obviously, in all probability, they will use the application.
There must be good enough reasons for people to use Mobile Apps.
Below are some of the advantages of Mobile Apps:-
1. Convenient and easy to use
Mobile Apps offer great accessibility. The Apps can be used anytime, anywhere.
The fact that Mobile Apps compared to websites are quite easy to use, makes them a great choice. They are also faster and add to a smoother experience.
2. Personalization
You must be receiving personalized messages through mobile apps. The personalized nature of messages is based on your behavior and preferences. It helps to improve your user experience.
3. Improved Communication
Mobile Apps facilitate faster communication between businesses and customers. Apart from the ease of communicating, it also helps in addressing issues that originate due to communication gaps.
Modern companies keep a chat option in their apps to instantly reach out to customers for any issues. For example, Swiggy has a chat feature that provides resolution in real-time and instantly.
Moreover, the information in the Apps is designed and shared in such a way that the user finds it very convenient to locate.
4. Leveraging the App to expand the target audience
There is no denying that app enjoy a definite edge over websites. Not everyone has a system or laptop device, but most people have smartphones.
You can expand your customer base knowing well that most people are glued to smartphones.
Apart, the information displayed on a website while using a smartphone can be distracting. The navigation seems difficult and often it looks unimpressive. Mobile apps offer a seamless experience.
The companies should leverage this and must try to reach the target audience.
5. Offline Access
One of the great features of the App is that it provides access to content and functionality even though there is no internet connection.
When people do not have access to the internet, cellular data came to their rescue. Websites cannot be used when the internet connection is absent. People prefer to use mobile apps when they do not have access to Wi-Fi. Below are some of the apps that can be used even when one is offline.
These are just a few examples of the types of offline mobile apps available. Depending on the specific needs and requirements of a user, there may be other types of apps that are more suitable.
6. Efficiency
Mobile Apps can help increase business efficiency by automating duplicate and redundant processes. The apps also help in streamlining the processes.
The app also provides real-time information to the employees. This helps them to make informed decisions. All this improves efficiency.
7. Device-specific features
Mobile applications have the ability to utilize features that are specific to a particular device, such as the camera, GPS, and accelerometer.
8. Competitive Edge
The provision of mobile applications can give you an edge over your competitors, as it enables you to deliver a more enhanced user experience and offer greater convenience in accessing products and services.
9. Superior Customer Support -
Mobile apps offer users an easy and direct means of obtaining customer support, resulting in an improved customer service experience.
10. Cost-effectiveness
The cost-effectiveness of mobile apps stems from their capacity to streamline processes, minimize paperwork, and reduce reliance on human labor.
Furthermore, you can leverage these apps by engaging with a broader audience while spending less, thanks to personalized and targeted marketing that fosters better customer engagement and retention.
11. Scalability
Mobile apps can aid your business in achieving scalability by delivering a streamlined and effective platform for operations, along with the capability to swiftly update and improve services to meet the evolving demands of customers.
Moreover, mobile apps can support your business expansion by expanding reach and accessibility.
Mobile Apps also come with certain disadvantages. Some of the main disadvantages are mentioned below.
1. User reluctance to Pay for the Apps
Mobile app developers face a major hurdle in convincing users to pay for their apps.
Nowadays, many people expect to access almost any app for free, making it challenging to persuade them to pay for an app, particularly if they are uncertain of its worth or quality. This reluctance can put developers at a disadvantage, as they depend on app sales for revenue.
Moreover, it can hinder their ability to invest in developing premium apps that users would be willing to pay for. Therefore, developers must come up with innovative ways to demonstrate the value of their apps to users and convince them that paying for them is worth it.
2. Usability and Accessibility Issue
The App may not be available in all the app stores. One of the challenges that you find in Mobile Apps is that they may not be universally available in all the app stores. A few Apps are available in Windows but not in the Apple store and vice versa. This impairs the reach.
Moreover, people with visual impairment, hearing impairment, motor impairment, and cognitive impairment are at a certain disadvantage if the app is high on visual elements, apps that include sound effects or voiceovers, apps with touch screens or small buttons, and apps that feature complex navigation or language.
3. Security concerns
You must be aware that Mobile apps can pose significant security risks to users due to the sensitive data they handle, such as personal information, financial details, and location data.
These risks can manifest in various forms, including malware, data breaches, phishing attacks, and insecure connections. Malicious software can infiltrate mobile apps and steal sensitive user data, while data breaches can compromise a vast amount of user data stored on cloud servers or other devices.
Attackers can also use mobile apps to launch phishing attacks and deceive users into divulging sensitive information. To ensure security, developers must implement robust security measures such as encryption, secure connections, and regular software updates.
We as users should also be mindful of our device security, such as using strong passwords and being selective about app permissions.
4. Endless updates in Mobile Apps are cumbersome
How often do you see when you open the app it prompts you to update it? Frequent updates can be a drawback of mobile apps as they may inconvenience users by requiring them to regularly download and install new versions.
However, updates are essential for improving the app's performance, adding new features, and addressing security vulnerabilities. They can fix bugs, enhance user experience, and ensure the app remains secure.
Although frequent updates may seem inconvenient, they demonstrate the developer's commitment to providing a high-quality, secure, and up-to-date app. Users can benefit from improved functionality, security, and performance, making the app experience more enjoyable and trustworthy.
5. Support
Providing support for mobile apps is often perceived as a drawback due to the challenges it poses for developers. You must have encountered encounter technical issues or struggled with certain features, necessitating you to seek assistance.
However, small businesses find it expensive and time-consuming to provide support. It requires dedicated staff and resources. Furthermore, given the diversity of devices and operating systems, providing timely support can be challenging.
Nonetheless, failing to provide adequate support can lead to dissatisfied users, negative feedback, and a decline in app usage. Thus, developers must find a balance between offering effective support and maintaining user satisfaction and app performance. Doing so demonstrates their commitment to providing a high-quality app and reinforces user trust.
Besides the above-mentioned drawbacks, there are a few other disadvantages as well like the lengthy app store approval process, limited customization options compared to various web-based applications, and compatibility issue with various operating systems.
The visibility in the App Store can be affected as there are millions of apps in App Store. Technical issues are common phenomena in Apps. Limited storage in the device also makes it difficult to download all the apps. There is also a dependency on a stable internet connection to use apps.
The Final words
In essence, the advantages of mobile apps are ubiquitous. They have transformed our personal space and the way we interact with technology and streamlined our daily lives with their convenience and flexibility. From banking to shopping, socializing, and working, mobile apps offer unparalleled access to a vast range of services and information.
However, like any technology, mobile apps also present challenges. Security risks, accessibility issues, frequent updates, and support challenges can pose drawbacks for users and developers alike.
Nevertheless, by prioritizing user needs, implementing best practices, and staying abreast of the latest innovations, the benefits of mobile apps far outweigh the disadvantages.
Mobile apps will continue to shape our world, unlocking endless possibilities and opportunities for personal and professional growth. As mobile technology continues to evolve, so too will the opportunities and challenges presented by mobile apps, making them an exciting and ever-evolving field.